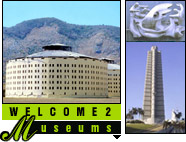 The rich history of a country, covering more than five centuries, and the story of objects and belongings of illustrious people or institutions coming from every corner of the world are treasured in almost 300 museums in Cuba .
These entities, highly valuable from the cultural point of view, are a means that allow the visitors to know or enhance their knowledge and, ultimately, value the roots of a nation that has won a rightful place in the history of humankind.
The first museum conceived in Cuba was opened in the 18 th century. It was named Museo de Historia Natural and was under the jurisdiction of the Real Academia de Ciencias Médicas, Físicas y Naturales de La Habana from the moment it opened its doors to the public in 1874.
Twenty-five years after the opening of this pioneer institution in the capital, another museum would be opened in Santiago de Cuba: the Bacardi Museum.
Thus, the life of the second treasure of this nature began to move forward owing to the efforts, arrangements, and support of Mr. Emilio Bacardí Moreau, wealthy industrial magnate settled in the second important city in the country.
The efforts of the Cuban Revolution to achieve an integral general culture in the people have made it possible to create at least a museum in all the 169 municipalities of the country.